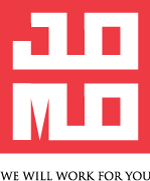 Jomo have been first class in helping Chambers with all our marketing material since 2009. Everything is quality driven and all deadlines are met. They are also a real pleasure to work with.
Barristers Clerk at 9 Bedford Row International
Jomo created and delivered the final brochures to Spain for a world telecoms event and the whole project took just over two weeks from start to finish, a great result!
Independent Industry Analyst
& Software Marketing Expert
Excellent creative service with a quick turnaround on some complex design work. Very flexible to last minute changes.
Divisional CFO, Europe & Africa.
Airline Solutions at Gategroup
Jomo are an excellent choice for Key Alliance and have supported us in all our design, print requirements and direct mail. It's good to know that their expertise is always available.
Data and Marketing Manager
at The Key Alliance Company Ltd
Jomo interpreted my requirements to create a great set of visual ideas and printed posters quickly and cost-effectively. Wonderful job! Thanks..
Senior HR Business Partner,
Digital Division at Ladbrokes
All our creative communications were managed by Jomo. They delivered thousands of printed items over a 5 year period. Jomo are great to work with, efficient and highly knowledgeable..
Chairman - Titan Corporate Services
and RedWood Company Formations
Jomo Design and Advertising
advertising
artwork
branding
corporate literature
direct mail
social media
CLIENT LIST
9 BEDFORD ROW
AXISPOINT
BOUNDARY MEDIA
BLUE SQUARE DATA GROUP
BT LOCAL BUSINESS
CABLE & WIRELESS
CARTER JONAS
CAVENDISH PERSONNEL
CHANNEL 4
CGI
CMJA
DENHAM GOLF CLUB
DFID
DGA
FLORABLEU
GARNER WOOD
GATE GOURMET
GOLDEN TULIP HOTELS
GOVERNMENT OF GHANA
GRAEME ETTLE MOUNTAIN GUIDE
GSK
HFHBG
HASBRO
HAYES LAW
HYPO BANK
HUTTONS
INTELLIGENT SOLUTIONS
IMPERIAL COLLEGE
KELLY GROUP
KEY ALLIANCE
MAGNA CONSULTING
MITEL TELECOMS
MODEXE
MOVIE COLLECTOR MAGAZINE
MSBL
NGD
OLD ACTONIANS
PJ CONSULTING
PORTSMOUTH COUNTY COUNCIL
SAIPH COMMUNICATIONS
SERVICE2MEDIA
STRUTT & PARKER
THAMES PACKAGING GROUP
THE CHILDREN'S SOCIETY
THE COMPOSTING COMPANY
THE HOUSE OF COMMONS
THE RETAIL GROUP
THE RM GROUP
TOSHIBA
TRANS INDUS
WALLINGFORD RUGBY CLUB
WATTMONEY